TORO Commercial & Domestic Mowers,
contact the specialists at Cheshire Turf Machinery - 0161 494 5673.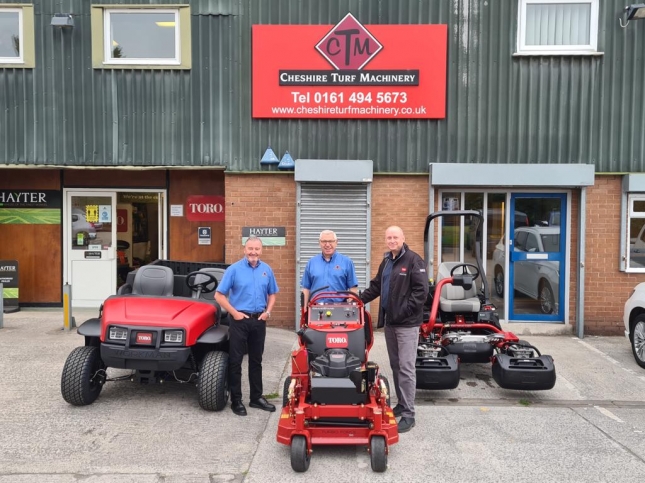 Cheshire Turf Machinery Celebrates 25 Year Anniversary
Toro dealer Cheshire Turf Machinery, based in Stockport near Manchester, is celebrating its 25th anniversary this year.
Toro, and its UK distributor, have been involved with Cheshire Turf Machinery for at least the last quarter of a century and some time before that, as managing director, Steve Halley explains: "Initially set up as Cheshire Light Tractors in 1956 selling garden machinery and turf equipment, the company was bought by Flymo in 1980, before we took the business back into private ownership in 1996. At that point, Toro was already a staple part of the business and Lely supported us, particularly with demo equipment when we took over. We changed the name to better suit the ethos of the business in the supply and servicing of professional turf equipment and set our focus on a mainly sports based portfolio of customers.
"The company has been through many changes, but one thing that has remained the same is our relationship with Toro and its UK distributor Lely, then Reesink."
Toro excels at creating enduring relationships, built on reliability, productivity and quality; many of its relationships with customers are 25 years and counting – and the same relationship longevity applies to its dealers too.
Steve says: "Toro has been involved in so many milestones over the last quarter of a century. Toro was our first machine sold and our 1,000th, and when we decided to branch out into the market sector of councils and landscape contractors in 2013, becoming agents for the Toro Groundscare range enabled us to do that."
In addition, Toro has also helped in the company's expansion and as a result of continued sales growth Toro awarded Cheshire Turf Machinery with extra sales and service territory for its commercial golf mowers and equipment, primarily to cover South Yorkshire and Derbyshire, culminating in the formation its sales division, Yorkshire Turf Machinery.
Steve says: "We're very lucky to have had and to continue to have Toro and Reesink on board, having their names associated to ours has benefitted us greatly in building up the business. There's a very good reason why 70 percent of our product portfolio consists of Toro machinery and that's because of its quality. I believe that if we do our job properly when we sell that first Toro, we'll have a customer for life."
And that leads nicely on to the other major contributing factor to the company's success and that is the experienced team, says Steve. "Our staff are good at thinking on their feet, thinking laterally to solve our customer's problems. It was really highlighted in 2020 just how much they care, and I can't thank them enough for that as well as all their hard work over the years."
PROFESSIONAL SERVICE
CTM have been supplying the full range of TORO golf course equipment and garden machinery since 1996. We are in a position to offer a wide range of products with expert advice and tailored to individual requirements, all backed up by our award winning manufacture trained service and parts departments.
Preferred machinery suppliers to Manchester City and Manchester United Football Clubs.
Main agents for leading branded Turf Machinery, including market leaders:
EXPERTS IN CUSTOMER CARE




Suppliers to Groundcare, Local Authorities. Golf Clubs, Contractors, Estate Management and Home Owners.




Whether your requirement is for Sales, Contract Hire, Spare Parts or service and repair, everybody at CTM is ready to help.


CTM achieve the Toro Gold Award for Excellence in Service.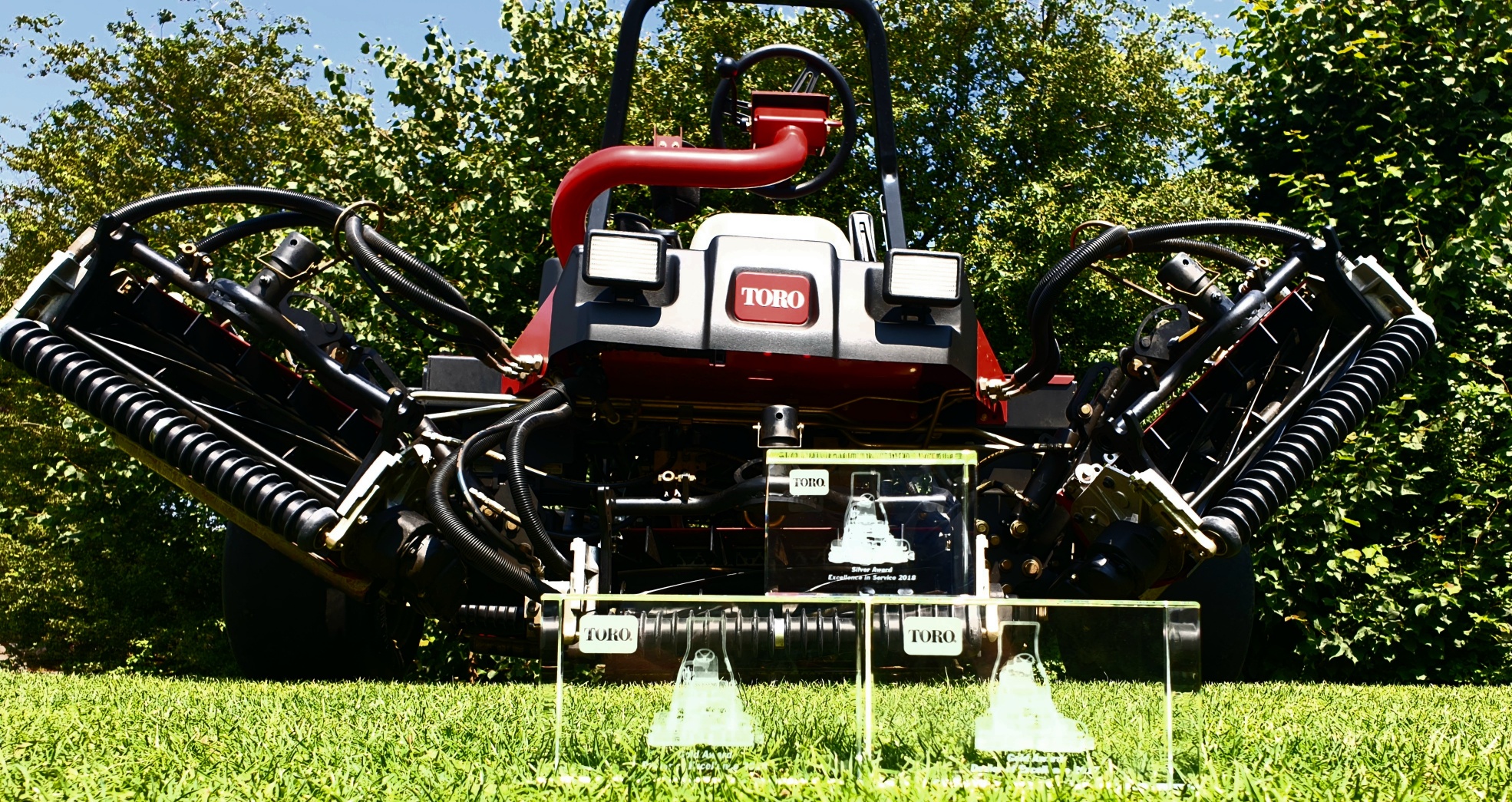 The awards commend outstanding performance in the three areas of Service, Parts and Skills.
Toro at the fore for two golf clubs.
Green Circle Leisure is bringing in more Toro to keep standards high as it embarks on the next stage of development across two of its clubs in the North West.
For five years, Toro machinery has been at the forefront of Green Circle Leisures' investment in Allerton Manor Golf Club in South Liverpool and Sherdley Park Golf Club in St Helens, Merseyside. Now with both clubs having made great progress, two new Toro Greensmaster 1000 walk behind cylinder mowers have been bought in to provide the best possible maintenance for the new turf across the new greens and tees of Sherdley Park.
In 2015, Green Circle Leisure, the official golf operating partner with Liverpool City Council, purchased a fleet of Toro machinery from Cheshire Turf Machinery in Stockport, as part of the reinvention of Allerton Manor Golf Club. The company's excellent relationship with Cheshire Turf Machinery, and the reliability and quality of Toro machinery, led to Green Circle Leisure purchasing additional Toro machinery for Sherdley Park Golf Club in 2018, after becoming the operating partner of St Helens Council.
Steve Halley, managing director at Cheshire Turf Machinery said: "It has been a pleasure to work with Michael Hanlon, chief executive at Green Circle Leisure, and his team and witness the transformation of the golf courses and facilities in their care.
Since 2015, as well as investing in new equipment, Green Circle Leisure has moved to protect that investment by confirming maintenance programmes with us on all their machines, helping to ensure the continued improvement of the golf courses." Director of golf, Bryan Joelson-Mulhall explains: "Over the past few years we've invested in both Allerton Manor and Sherdley Park, with our goal from the start to provide facilities as good as or better than private members clubs, while staying affordable and accessible to the whole community. In order to continue making improvements to the courses in line with our goals, we need the best machinery. And having the best machinery means Toro."
A number of improvements have already been made to both clubs, with more on the way as the redevelopment continues, and this led to Green Circle Leisure to add to its Toro fleet with the purchase of two Greensmaster 1000 walk behind cylinder mowers for Sherdley Park. The Greensmaster 1000 is ideal for greenkeepers needing an efficient and easy to operate walk-behind mower that delivers an excellent quality of cut. The front weight bias offsets the operator's natural tendency to place weight on the handle, allowing the reel to better follow ground contours for a consistent cutting height, plus it is uniquely weighted, front to rear, providing greater turf penetration.
"We're working to make Sherdley Park an all weather course, suitable to play year-round," says Bryan. "So that means new greens, new tees and new bunker systems. We needed high-quality walk behind mowers for the maintenance of new turf as it grows in, and the Greensmaster 1000 is perfect for that." And with planning permission approved for the next phase of work at Allerton Manor, it certainly seems like its fleet of Toro machinery, which includes two
Greensmaster 1600s, two
Greensmaster 1000 pedestrian mowers, a Greensmaster TriFlex 3400, a Reelmaster 5510-D, and two Groundsmaster 4000-D machines among others, will be put to work over the next couple of years.
"We're going to be turning the course at Allerton Manor from a par 67, to a par 72," says Bryan. "That's alongside a brand new golfers pavilion, adventure golf course for families, a driving range, hotel and spa and a new greenkeeper compound."
Richard Shields, Allerton Manor head greenkeeper said: "We are always looking at how to improve the courses, and Toro does a fantastic job keeping standards high and improving the quality of the course. We don't hesitate to bring in more Toro when needed as we know the importance of having reliable, quality kit. "Since 2015, Toro machinery, the after-service care from Cheshire Turf Machinery and Reesink Turfcare and the feedback from the team have all been good, so we've no plans to change a winning formula."